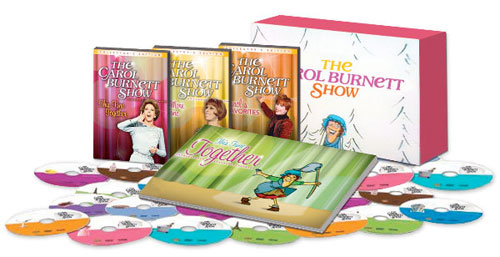 NEW! The Carol Burnett Show: The Ultimate Collection includes 50 episodes on 22 DVDs!

It's finally here — a gorgeous collector set for Carol Burnett Show fans! The Carol Burnett Show DVD Collection includes 50 episodes of the television show, a showcase collector's box, exclusive memory book, and more than 20 hours of bonus material including exclusive interviews, featurettes and rare sketches. Episodes feature all the regulars (Carol Burnett, Tim Conway, Harvey Korman, Vicki Lawrence, Lyle Waggoner) and dozens of guest stars (Betty White, Telly Savalas, Steve Martin, Dick Van Dyke, Lily Tomlin and many more). Makes a wonderful gift.
The Carol Burnett Show DVD Collection

Comparison of prices at major online discount stores

Store
Format
Availability
Price
Link
DEAL ALERT! Order now to get this outstanding value on The Carol Burnett Show DVD Collection!
21 Episodes on 10 DVDs
In Stock
$99.95
This item gets Free Shipping!

45 Episodes on 22 DVDs
In Stock
$199.95
This item gets Free Shipping!

16 Episodes on 6 DVDs ("Carol's Favorites")
In Stock
$35.89
You may also find Carol Burnett Show DVDs for sale on eBay.
Carol Burnett Show Episodes on DVD
Available on eBay
View Current Price
Helpful Information About The Carol Burnett Show DVD Collection
Does this bring back memories about The Carol Burnett Show? Check out this video clip preview of the DVD collection. Once you hear Carol's familiar Tarzan call and see her wearing the "Went With The Wind" dress, you can't help but remember why the show was such a fan favorite.




The crew in charge of packaging for Time Life has once again done an outstanding job. The collector's box (which is designed to open like a curtain rising on the stage) make this an exciting gift set for any fan of The Carol Burnett television show. This special Carol Burnett Show Ultimate Collection provides more than 20 hours of BONUS features including Carol's start on The Garry Moore Show, rare comedy sketches, exclusive interviews (including Betty White, Carl Reiner, Bernadette Peters, Amy Poehler and others), and 13 featurettes. Order your set now!