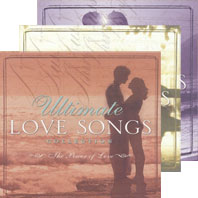 The Ultimate Love Songs CD Collection: As seen on TV! This Time-Life collection features hit songs from the '60s, '70s, '80s and '90s. Ballads, duets and up-tempo hits by the very best artists make this a must-have collection. Highlights include chart-toppers such as Percy Sledge: When A Man Loves A Woman ... Celine Dion: The Power of Love ... LeAnn Rimes: How Do I Live ... Elton John: Your Song ... The Chi-Lites: Oh Girl ... Whitney Houston: Greatest Love of All ... Air Supply: Lost In Love.
Ultimate Love Songs CD Collection

Comparison of prices at major online discount stores

Store
Format
Availability
Price
Link
You may also find Ultimate Love Songs CDs for sale on eBay.
Ultimate Love Songs CDs
Available on eBay
View Current Price
You may also order some volumes separately.